Services:
3 nights
incl. 3 nights in a comfortable room
a rich daily Ammerland breakfast buffet incl. 1
1 cosy coffee and tea with cake on the 2nd Christmas day
use of a hotel rental bike and/or the hotel sauna
1 x admission to the casino Bad Zwischenahn
Christmas buffet incl. drinks buffet in the Meta Gastronomie (1,1 km) on the 1st Christmas day
Christmas buffet incl. Drinks buffet
Christmas on December 25th from 11:30am to 2:00pm at Meta Gastronomie, Wiefelsteder Str. 47 (1.1km).
Appetizers
Smoked salmon with cream horseradish, cheese specialties (including soft and hard cheese), mini meatballs with pesto and chili sauce, melon with ham, tomato mozzarella.
Soup
Beef broth with insert
Salat
Salad buffet with various dressings
Main course
Pork fillet with mushroom cream sauce, duck legs with red cabbage, smoked pork roast with sauce, chicken breast baked with tomato mozzarella, chicken breast fillet with herb crust, roast pork on a skewer, small chicken schnitzels, fish pan, wintry vegetable medley, rice, spätzle (German pasta), potato gratin, potato dumplings, potato croquettes, roasted potatoes, and boiled potatoes.
Dessert
Red berry jelly with vanilla sauce, warm fruit with vanilla ice cream, chocolate cream, vanilla cream.
Drinks buffet incl.
This offered can be booked on the following days:
Allowed Arrival Days: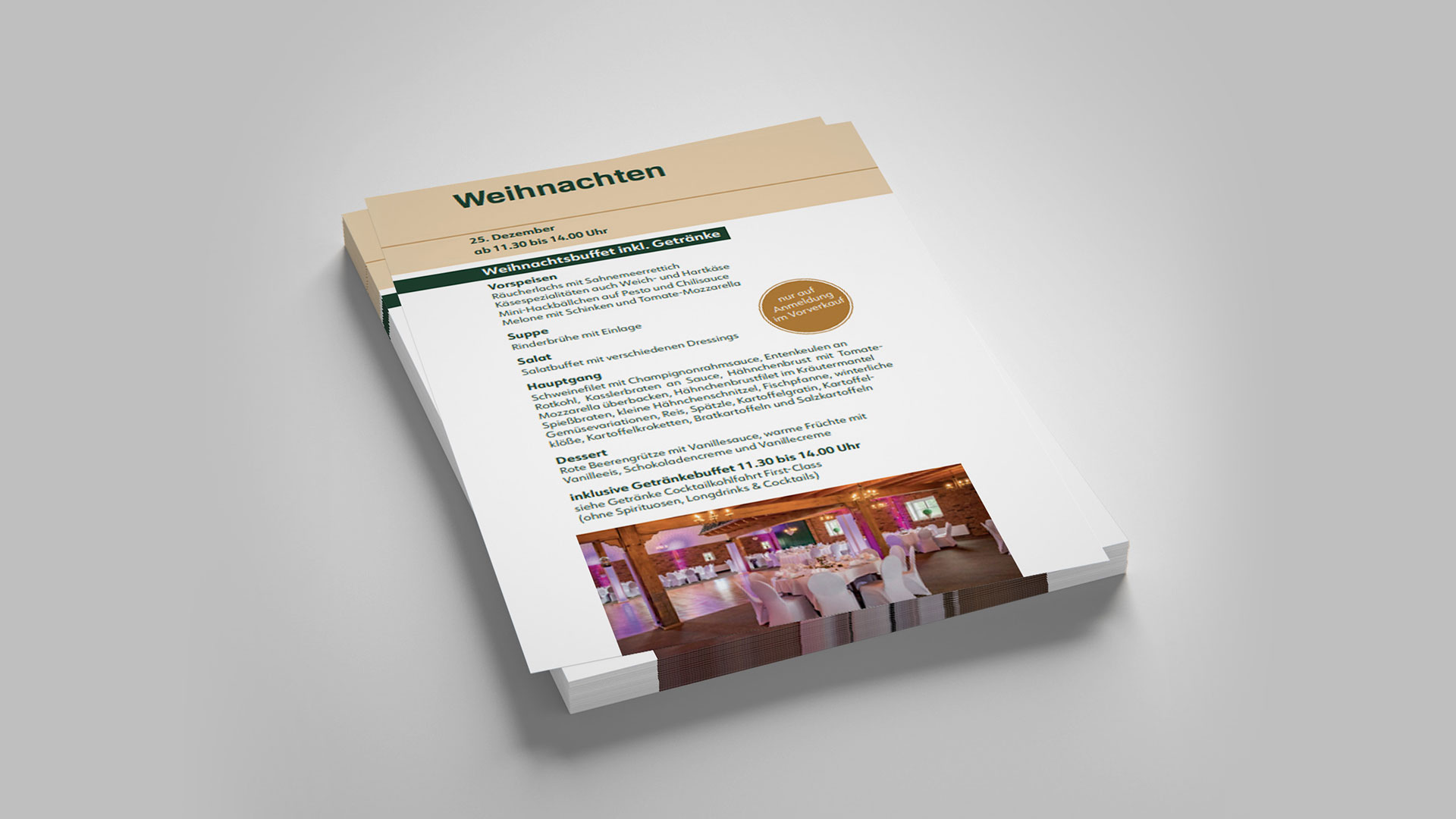 Download our brochure for this offer now.
PDF. 222KB
Book online now
a787c7d1-bc8c-4030-990c-27905b3783fa